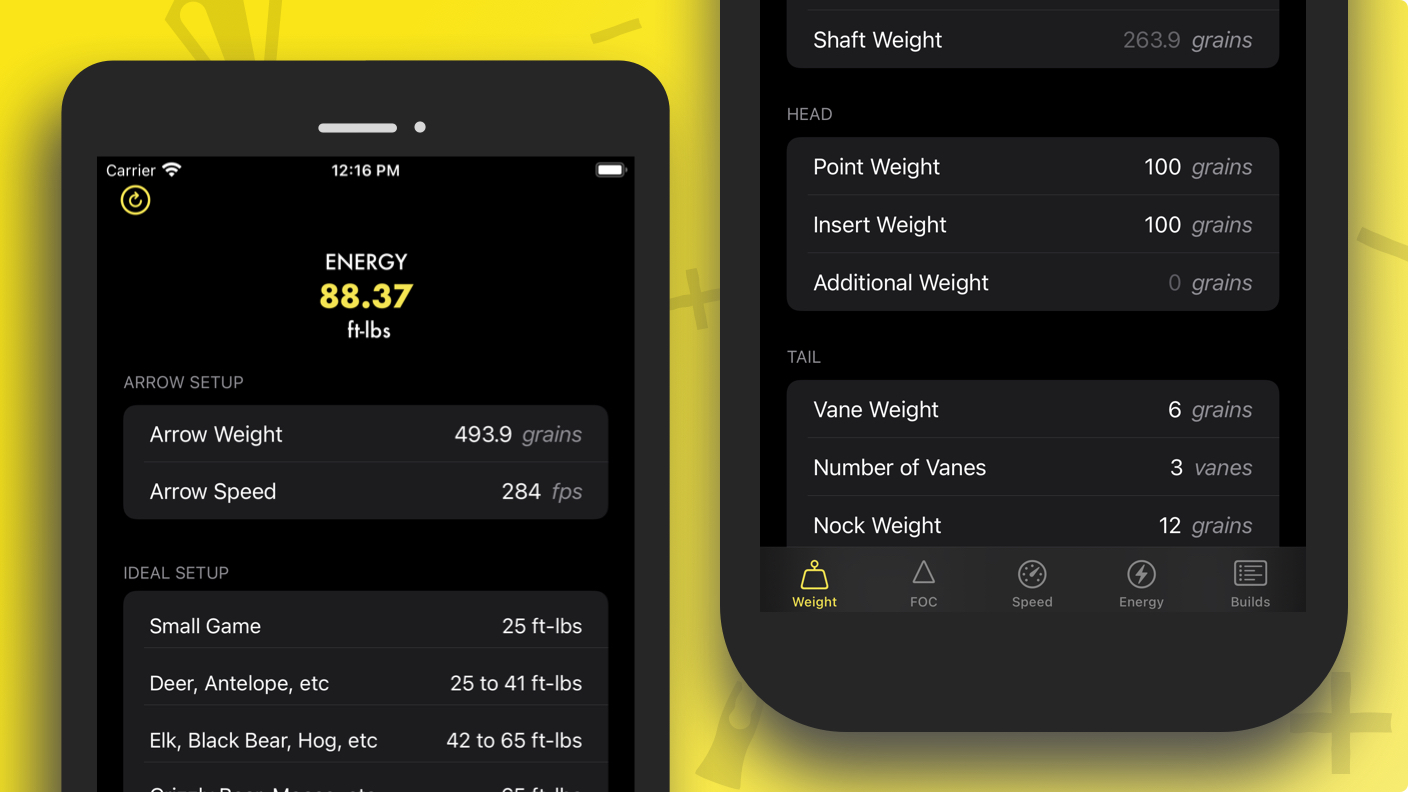 Our first app this year, Shooting Light, has been a great tool for hunting season. We used it all through turkey season and loved it. So while we've been working on some of our bigger app ideas and trying to get them ready for the upcoming deer season, we decided to take a slight detour and scratch another small itch.
We always look forward to Bowhunting, and there's a lot that goes into prepping for it. Some guys get a new bow every year, others shoot the same bow but change strings, build new arrows, etc. We're no different – we've been pulling out the targets and trying to warm up the shoulder. In doing so, I bought a dozen new shafts and started planning out this season's arrow build.
While building and testing, I ran into a few things that I thought we could fix. The first was that while building arrows, we wanted a way to calculate arrow weight without literally building the arrow and weighing it. We also wanted an easy way to measure FOC (Front of Center) as it's becoming a popular detail to consider. Finally, we figured why not throw in speed and energy calculations while we're at it.
We put all this into an app we're calling Grains, and it didn't take long for us to realize that it's extremely handy to have a calculator for these in your pocket at all times. Some sites do those calculations for you, but they don't work well on a phone, and I don't keep the computer in the garage where I build my arrows.
Once we had the calculators, we realized it'd be great to be able to store and save the arrow builds in a journal or log. Then when you look at the 5-gallon bucket full of shafts, fletchings, and colors, you can easily find the total weight, which insert, any additional weight, FOC, etc., of that arrow. Arrow builds aren't out yet, but they're coming soon.
We're wrapping up a few other big apps right now, then we'll get back to work on Grains. Grains has been an excellent tool for us, and we think it'll be really helpful for you too.
Read more about Grains here or check it out on the app store.